Benefits of going direct to consumer (D2C)
D2C is a trend that will
change everything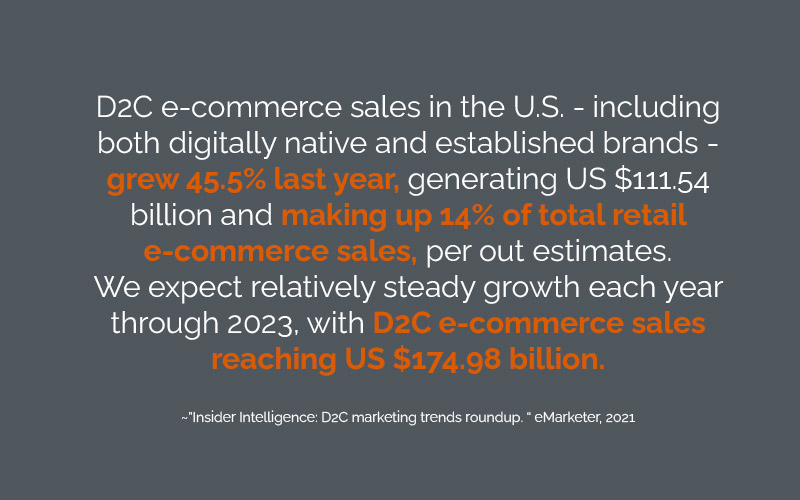 Stronger brand loyalty
---
Manufacturers have more autonomy and can provide better service and support to customers through D2C. They can leverage their connection with consumers to build strong relationships and increase customer loyalty through targeted marketing campaigns.
We can provide complete customer service and even respond to customers in a brand-like manner. This gives the customer a connection with the brand and increases brand loyalty.
Direct access to customers data
---
Connecting directly with customers through each stage of the buying process — including post sales — allows the collection of their email addresses, location, social media profiles, purchasing preferences, etc. Understanding consumer buying behavior helps manufacturers optimize existing products and possibly even create new product lines.
More opportunities to innovate
---
Most retailers follow a set of standards when selling. They often shy away from selling new products and don't have a track record as a "hot seller". Then, the manufacturer can only produce what the retailer needs. D2C enables manufacturers to bring new products to market on a smaller scale, test them with selected demographics and gather feedback. This enables manufacturers to understand customer needs, produce best-selling products and, where necessary, make improvements.
Control your brand
---
The traditional manufacturer-retailer relationship gives the manufacturer little room to control the brand. While they can control packaging and other marketing, once a product is handed over to a retailer, the manufacturer can no longer influence sales, build relationships with consumers or collect data. While manufacturers spend a lot of money on advertising, it is ultimately retailers who get their products in front of consumers.
When you switch to D2C, you take back control of all this. Your brand, your brand presentation.
Expand your territory
---
With a strong product and marketing plan, your D2C sales strategy can help you expand market share and drive rapid growth. Distribution networks and retail centers often limit how far your brand can go. The world of digital commerce allows you to move beyond the traditional constraints of retail locations. With the right fulfillment and delivery strategy, you can reach customers across the country and around the world.
Reduced dependencies
---
Many distribution-only businesses have permanently closed their doors as lockdowns kept shoppers from visiting brick-and-mortar stores. Without a separate D2C digital commerce strategy, B2C companies stand to lose enormously. Nike's shift to a D2C model, which began years before the pandemic, paid off: The brand's digital sales grew 82% in early 2020